Book Six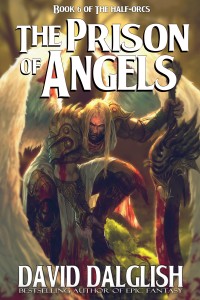 "This world is not safe. Your angels have done great things, but I fear their illusion of safety has been more damaging than they can possibly understand. The ancient evils may be gone, but new ones have replaced them."
Five years have passed since the death of the war god, and now angels watch over the land. It should be a time of peace and prosperity. It is not.
With King Antonil marching east to retake his former lands from the orcs, Harruq Tun is thrust into a position of power he is completely unprepared for, leaving many plotting to usurp the throne for their own ends. Hovering over it all are the angels, enforcers of the law and wielders of the executioner's blades. Once viewed as humanity's saviors, the angels now find themselves struggling for a proper place in the new world.
Monsters in the Vile Wedge are stirring, and in the south the nation of Ker moves to protect itself from a rule from on high. War comes, and if Harruq cannot stop it, their paradise of angels may soon become a blood-stained prison.
THE PRISON OF ANGELS
Fear the grace enforced by the sword.